As I promised here are some pictures of our House. This is what it looked like the day we moved in. Just a mess. I didn't want to put things away right away because we planned on doing some work on our house.
Reed was out of town for work the first week we lived in the house so as soon as he got back we got to work by tearing up the carpet in the living room and hallway. The owners before us had cats and we weren't fans of the smell it left behind. We eventually want to re carpet the bedrooms just not right now.
Then we got to work by laying our laminate flooring. Reed did an awesome job and it went pretty fast. Despite he only had a few hours after work each night.
But it turned out pretty awesome!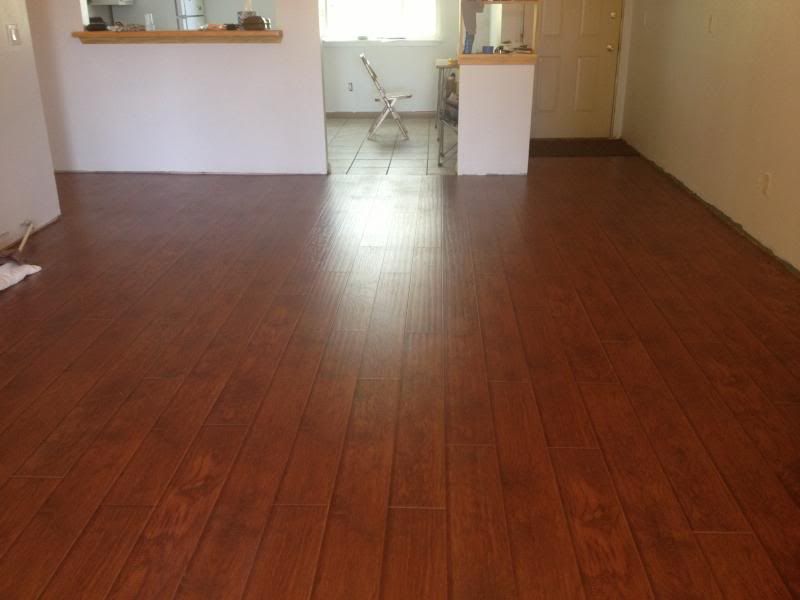 Once we painted and got some nice new trim up it looked and smelled like a whole new house.
We now have furniture in our house but I need to do a few more things before I post some after pictures.
The next project we started on was adding another bathroom. This house is a 4 bedroom 1 bath house. We definitely wanted a bathroom in our room and there was space for it since we had two walk in closets.
This is what the closet looked like before. The previous owners wanted to put a bathroom in here and had it partially plumbed but never went through with it so we got to work right away and got our bathroom going. It looks pretty small and it isn't huge but it will be perfect for us and will be just the right size for this home.
It kinda looked like this for a while and was a huge mess.
But we slowly made progress. This is the ceramic tile we choose that looks like hardwood floors. We absolutely love it and Reed did an awesome job for his first tiling job. He did this floor in one day while I was passed out after getting my wisdom teeth out.
...and this is what our shower is looking like now. We also added that new window, it needed it for sure.
We have a few things left to do in the shower and then we will be able to put the toilet and vanity in. Reed has been gone a lot for work so we haven't been able to get things done as fast as we'd like but we are getting there.
Reed had training in Denver last week and I was able to go with him and hang out and shop. We had lots of fun and we went to IKEA and got some furniture for our bedroom and living room. We are super excited to finally have a house of our own and put our time and money towards something that is ours. More pictures coming soon...